On Memorial Day weekend, Johnson Kraeuter attorneys Samantha Fassett and Elizabeth Berenguer traveled to Amelia Island, Florida, to present at the 2019 Georgia Family Law Institute. Samantha is a fourth-year associate and Elizabeth is a law professor and appellate specialist whom the Firm engages for complex litigation and appellate matters.
Samantha educated more than 600 Georgia family law attorneys and judges on recent updates to Georgia law in the areas of settlement agreement enforcement, contempt and modification of custody, and attorneys' fees. Elizabeth taught attendees innovative strategies for interrupting implicit biases that routinely arise in family law cases. In preparation for their presentations, both attorneys drafted papers, which were published in the conference materials.
LEGACY OF LEADERSHIP.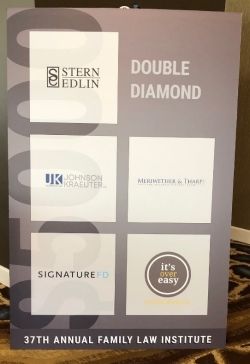 Johnson Kraeuter enjoys a long history of leadership in the Family Law Section of the Georgia Bar and is a Double Diamond sponsor of the 37th Annual Family Law Institute.
Paul Johnson, Partner (2010 Family Law Institute Chair; 2010-2011 Family Law Section Chair; Presenter 1999, 2002, 2004, 2007, 2008, 2009, 2012, 2014, 2017, 2018)
Scot Kraeuter, Partner (2018 Family Law Institute Chair; 2018-2019 Family Law Section Chair; Presenter 2008, 2010, 2012, 2013, 2015)
TRUSTED EXPERTISE.
Johnson Kraeuter attorneys are frequent presenters at conferences, seminars, and other continuing legal education events. Georgia family law attorneys trust Johnson Kraeuter's specialists because of their many years of leadership in the Family Law Section and because of their combined decades of practical experience representing clients in a broad array of family law matters.